Handle
Quick drying, food-safe, light weight, and durable; custom made diamond ripstop fabric
Body
Food-safe, food stain-resistant, durable, and quick drying proprietary woven fabric
Shell
Food-safe, quick drying, durable, and 100% water-proof TPU fabric
Do the Shoulder, Elbow, or the Wrist Spin. Combo it! It's your call
Wash & Fill
..it with wet vegetables. Pour out the initial water from the blue Outer Shell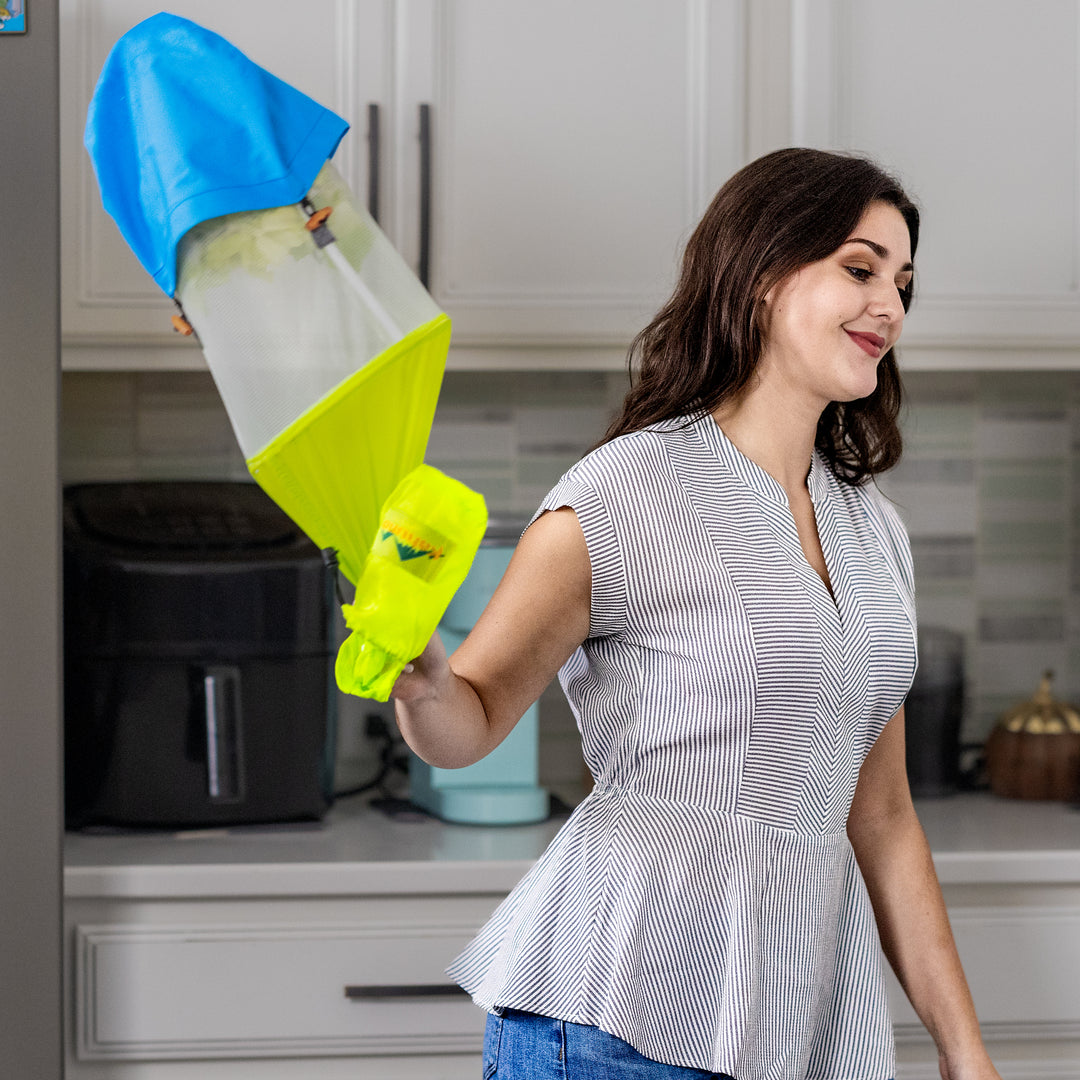 Now the Fun Begins
Spin! Spin!! and pour out the water from the Outer Shell. Repeat as desired
Push Out the Vegetables
..from the bottom onto the tray
Done!
Your greens are dry & ready; Works great with whole leaf ("un"-chopped) greens & herbs too!
Why Saladzilla?
Tired of plastic salad spinners that mechanically break down or shatter gratuitously? That's a lot of plastic waste dumped into the landfills and the oceans.

How about your precious kitchen real estate? Ever seen mildew growth in a conventional plastic salad spinner? It's plasticky yucky.

Enter Saladzilla
No Mechanical Parts to break down. 95% Fewer Material than conventional salad spinners. It fits on the palm of your hand, yet dries up to 2 gallons or 8 quarts of greens without sacrificing performance.

Saladzilla! Eat more greens today, save space, and help lessen waste.

It's that simple.🌱
How to "Pouch" It
Twist the Ring
Twist the ring to figure "8"
Collapse it to Smaller Ring
Keep twisting as you move your hands closer together to form a smaller ring
Roll it into the Pouch
Wrap the outer shell around the collapsed ring and roll it into the pouch
Done!
Saladzilla is ready for storage
Store it flat.. Hang it on a hook.. "Pouch" it. Do it YOUR way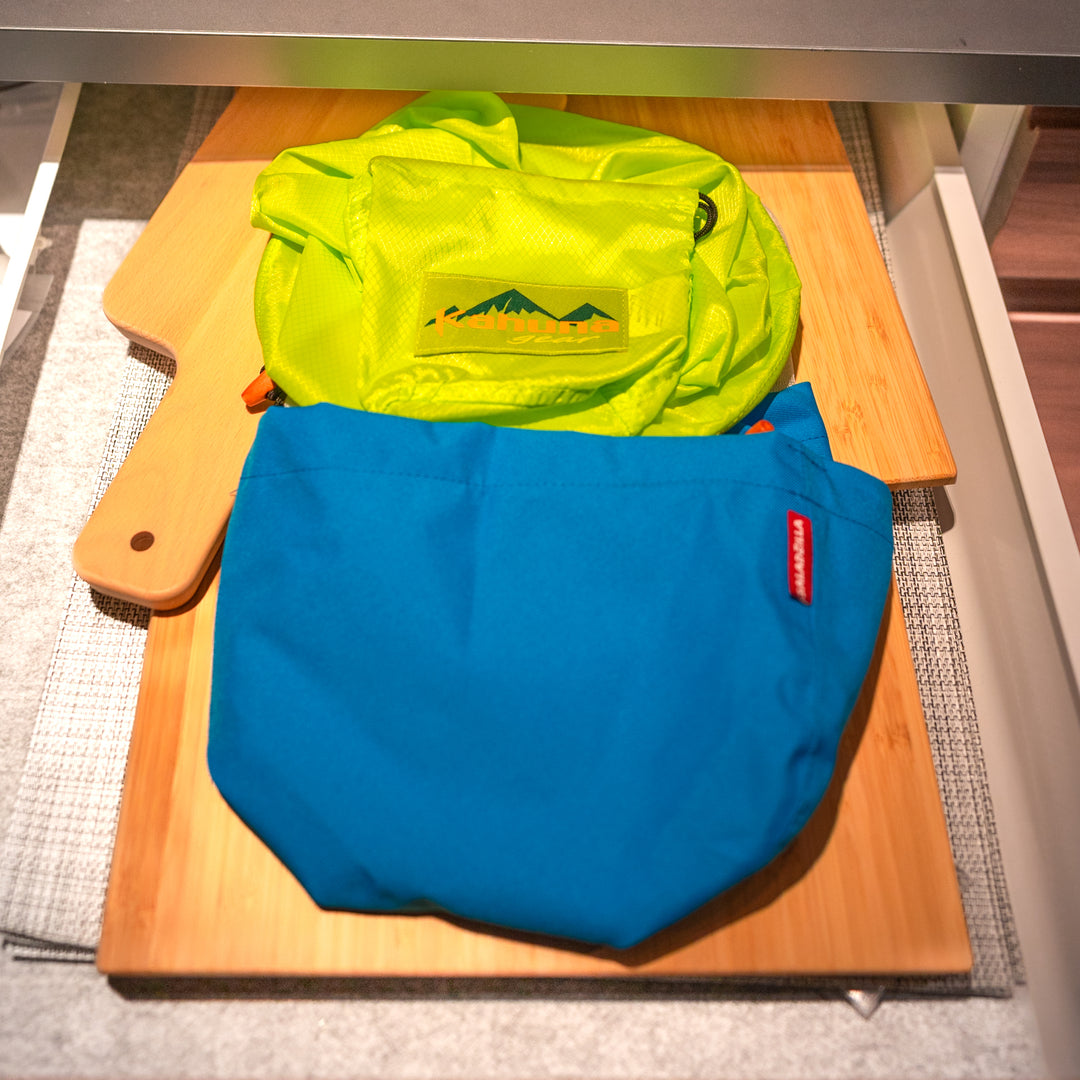 Dry Whole Leaf or Chopped
The Choice is Yours
Whole Leaf vs Chopped Greens

There are downsides to storing cut vegetables. They spoil faster and lose their vital nutrients & minerals through oxidation.

You should cut your vegetables few minutes before you plan to eat them.

Keep all the vital nutrients and minerals. Wash, dry and store your greens in a whole leaf form.

Great for healthy and nutritious lettuce wraps!

Help your greens last longer by drying them "un"-chopped (or chop them as you please before drying; in tune with tradition)

You got options with the help of Saladzilla.
Be Kind to Our Planet
Inspired by the outdoors and backpacking gear, we create durable Eco-friendly products.
Our products are born out of our love for the environment.
We hope you love using our product as much as we do.
Learn
The World's Plastic Pollution Crisis Explained
Plastic pollution has become one of the most pressing environmental issues, as rapidly increasing production of disposable plastic products..
Keep Reading
Key Facts About Plastic Pollution
About 8.3 billion tonnes of plastic has been produced since the
1950s – the weight of roughly a billion elephants or 47 million blue..
Keep Reading
When The Mermaids Cry: The Great Plastic Tide
The world population is living, working, vacationing, increasingly conglomerating along the coasts, and standing on the front row of the greatest, most unprecedented, plastic..
Keep Reading